Archive for 2011
December 25th, 2011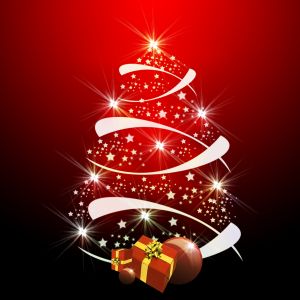 Wishing you all a very happy Christmas this year from 29th Dublin Blackrock Scouts. Hope to see you all happy and safe in the new year.
– 29th Dublin Blackrock Scouts Group Council
Posted in Group | Comments Off on Merry Christmas
November 29th, 2011
Hear is a list of the activities the Cub Section will be doing in the Scouting year 2011-12 Dates2011-2012(PDF Version).
Please remember that these are only provisional dates and are subject to change at any stage. If you have a query on any of the please contact your Section Leader.
Equipment lists can be found on this site as well for those overnignhts and longer camps.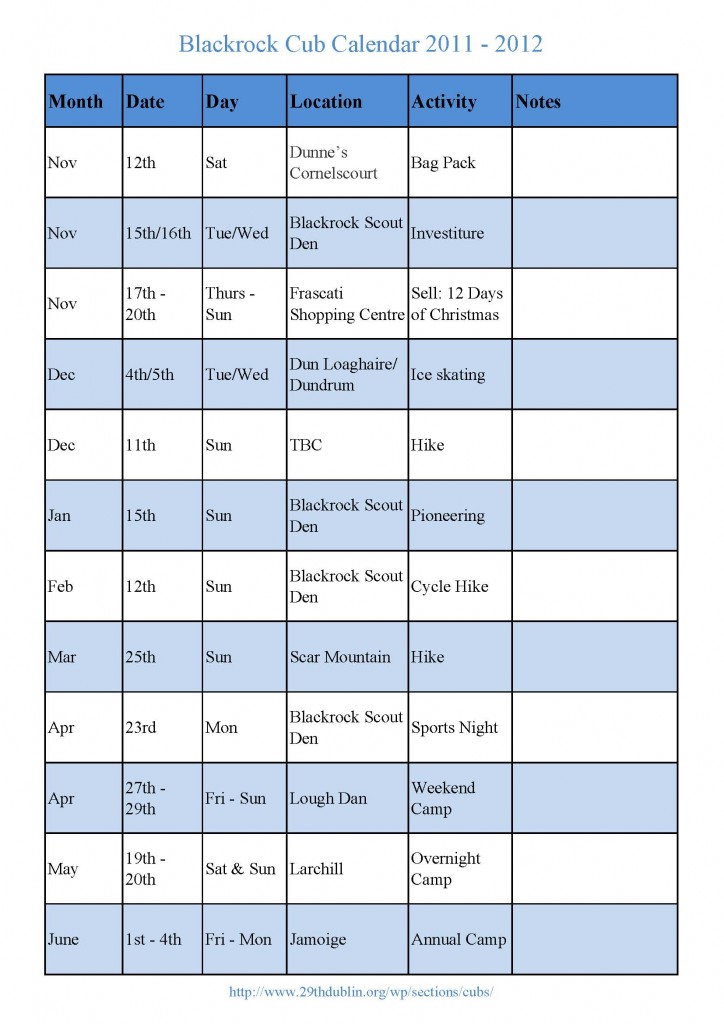 Posted in Cubs | Comments Off on Cub Sections Activities List 2011-2012
November 1st, 2011
This weekend the Ventures organised a joint camp with Newtownpark Avenue. Everyone had a great weekend, thank you to all of the leaders who made the weekend possible.
We started on Friday with a few games to help everyone get to know each other, and then continued with a film in the leaders room. Eventually everyone got to bed and some of us even got some sleep.
On Saturday we all got up (or were dragged out of bed). We headed out to killiney hill, losing a shoe on the way. When we got there we split into two groups (girls and boys). The girls (and Fionnán) went orienteering while the boys went Rock Climbing. Both activities went really well and fortunatley this time round none of the boys decided to climb upside down. All the boys gave the climbing a go, and some even made it to the top twice. When we got back to the car park we found that the girls also got on well, having only missed one marker. After a somewhat wet lunch the groups swapped over. The girls enjoyed the climbing although not quite as much as Fionnán, who wanted to go again and again and again and again and again…. Some of the girls were scared but everyone gave it a go, and the weather had improved to we had a great afternoon. The boys came and found us once they had finished orienteering, they also missed only one orienteering marker. At which point Kevin realised that he may have possibly placed the marker in the wrong place! Once back in the car park we met Conor and packed away all of the rock climbing equipment. Oisín then organised everyone to played a game of catch the flag, followed by Tip the Can and Hide and Go Seek. When we got back to the den, eventually in the case of the group who took the DART, we made dinner which was Pasta Bolognese. After dinner Kevin lit the fire and all of Ventures sat around throughly intent on their various whittling projects. Some made spoons, others knives, others arrows and some were even making wands to go with their Halloween costumes. Later on Fionn got very excited (after some smores) about the prospect of carving a pumpkin in the shape of a Creeper (something from Minecraft). So everyone split into groups and went inside to carve pumpkins and they all turned out really well, there should be photos up here soon.
Sunday morning we were busy as we had our Tidy Towns litter pick-up organised. So we had breakfast and walked down to Blackrock Park, Orla kindly put the equipment in her car and drove it down for us. We then spent about an hour collected rubbish in the park and continued all the way back to the den. Everyone did a great job, and we had plenty of rubbish by the time we got back to the den. Then each patrol was given a country on which they had to put together a project for the rest of the afternoon. The girls got Mexico and the Boys got China, the posters that they put together are displayed in the Den on the Venture notice board. They also had to cook a meal from their country. The girls made some delicious Tacos and Nachos and the boys made a really good stir fry with Noodles and spring rolls. All of the food was excellent and Oisín and Lainey did a really good job of cleaning up afterwards while the rest of us got back to our whittling. Then unfortunately about half of our number had to go home, because they had Halloween parties to go to. So the rest of us settled down in the Leaders room to watch Young Frankenstein. We then played a very interesting game of Switch where everyone showed everyone else their cards, and mine were looked at while I was out of the room, twice! We then, after much debate, watched X-Men:The Last Stand and went to bed.
Monday was boring as all we did was clean up, smash a pumpkin and go home. Overall it was a really good weekend and hopefully we will be able to run more joint activities in the future.
Posted in Ventures | Comments Off on Halloween Camp
October 25th, 2011
Hi all
Thanks to all the Sixer who took part in the programme planning for the year ahead. Please see below image of the board as we agree.
Posted in Cubs | 1 Comment »
October 18th, 2011
Tonight's Scout meeting has been cancelled because of a lack of leaders to cover the meeting, in particular a female leader. We cannot for child protection and insurance reasons have female scouts attending if there is no female leader present, thus we have cancelled the meeting. In our last letter we warned this might happen and unfortunetly it has.
Scouts Letter 4th October 2011:

The new scout section has 5 leaders currently: Paul O'Loughlin Kennedy, Daragh Moore, Aoife Keogh, Steven Mackie and Kevin Baker.This is a small number of leaders for a section this size and will get smaller as Aoife's college commitments will preclude her from attending meetings from Mid October. This leaves us in a very difficult situation and could result in us having to suspend meetings until we can find another female leader (ideally 2). So if anyone can make a commitment to assist at weekly meetings, or has a cousin, niece or friend, over the age of 18 we would be very grateful. Scouting experience is not necessary as training will be provided. We will need some assistance for some weekend activities so when you get notification of an activity please do consider if you would be able to come with us on the activity.
If you are available to help out as a leader on the Tuesday night for scouts please don't hesitate to contact Paul O'Loughlin Kennedy if you are interested. We cannot stress this enough, but scouting experience of any kind is not necessary we have short simple training meetings to help.
Contact information for Paul O'Loughlin Kennedy: paul@oloughlinkennedy.com; 086 243 8556.
Posted in Scouts | Comments Off on Scouts Cancelled Tonight
October 12th, 2011
This weekend we are hiking in the the Wicklow mountains. It should be a fun day out for all. We are starting in Crone Wood car park, climbing a hill to get to one of my favourite spots in Wicklow: the top of Powerscourt Waterfall; then we move onto the climb up to the top of Djouce mountain. The venture scouts will be organising activities and challenges along the way, which should be fun and hopefully help all the scouts achieve another part for the skills badges.
For those of you who have forgotten what to bring I have attached the images from the meeting on the end of the news item. We cannot stress these things enough: strong shoes (no wellies); 2 pairs of socks are better than big socks; your bag must have two shoulder straps; and don't forget rain-gear (that applies to me too – I always forget it). For food be sensible. Be warned that no matter how many times you're told by the ventures that there is an Eddie Rockets or ice-cream shop at the top of Djouce it doesn't exist, so bring a good packed lunch and 'healthy' snacks.
For any parents out there that are interested in coming along for the hike you are more than welcome. Don't worry the hike is not hard at all, so you won't embarrass yourself. If you want to come or need further directions Paul's (the scout section leader) has his contact information on the October letter. Hope to see you all on Sunday down at the the Crone Wood car park for 10:45.
On another note if you did not get the letter October 4th 2011, that is it there.
Here are Directions to Crone Car Park if you need them.
(I apologise for the blurriness of the photos)
Posted in Scouts, Ventures | Comments Off on Scouts (& Ventures) are Hiking Sunday
October 12th, 2011
Hi all
The Cubs asked for an equipment list to be put up on the site, just click the link.
Don't forget this is a weekend list so you will have to reduce some things as this weekened it is only an overnight.
Hugh
Posted in Cubs | Comments Off on Equipment list for Cubs