Posts Tagged 'Den'
July 7th, 2013
Hi all
I just want to say a big thank you to Marie and Kevin for all the work them put in painting the exterior of the Den. They had help now and again but they put in almost a full month and the result is fantastic, see picture below of how it looks now.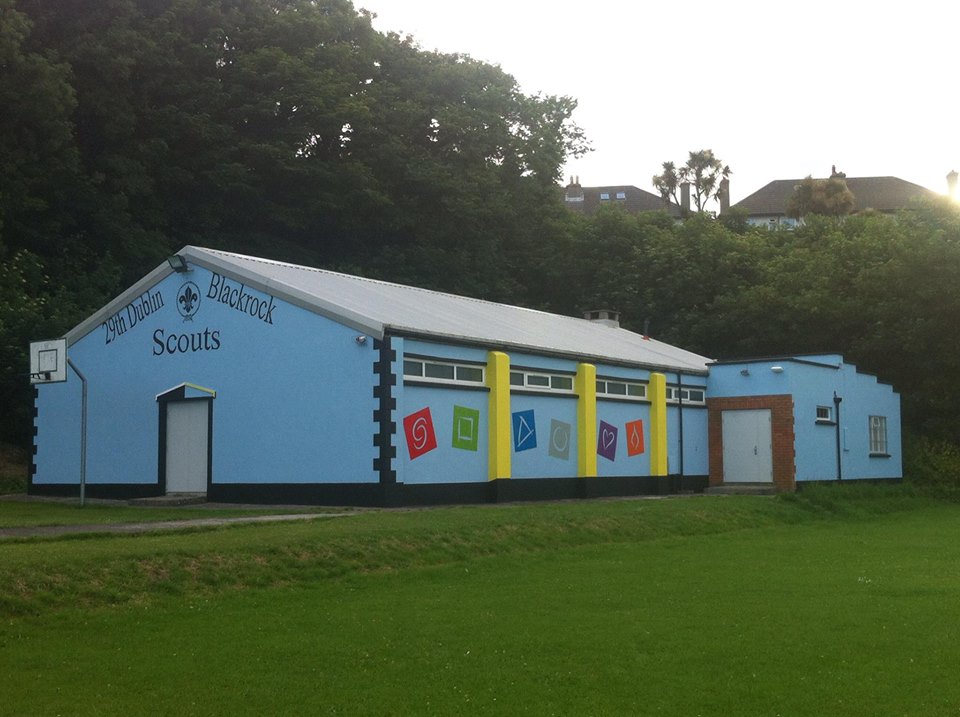 Posted in FMC, Group, Website | 2 Comments »
May 1st, 2012
A few pics from the above cub Camp.
Posted in Cubs | Comments Off on Cub Camp Apr 2012 in The Den
February 12th, 2012
Following a trip to IKEA , we now have a fully equipped kitchen with new dishes , glasses, pots and pans, in fact all you would need to make a great meal. We have thrown out all the old stuff.
Posted in FMC | Comments Off on New Kitchen Equipment
November 1st, 2011
This weekend the Ventures organised a joint camp with Newtownpark Avenue. Everyone had a great weekend, thank you to all of the leaders who made the weekend possible.
We started on Friday with a few games to help everyone get to know each other, and then continued with a film in the leaders room. Eventually everyone got to bed and some of us even got some sleep.
On Saturday we all got up (or were dragged out of bed). We headed out to killiney hill, losing a shoe on the way. When we got there we split into two groups (girls and boys). The girls (and Fionnán) went orienteering while the boys went Rock Climbing. Both activities went really well and fortunatley this time round none of the boys decided to climb upside down. All the boys gave the climbing a go, and some even made it to the top twice. When we got back to the car park we found that the girls also got on well, having only missed one marker. After a somewhat wet lunch the groups swapped over. The girls enjoyed the climbing although not quite as much as Fionnán, who wanted to go again and again and again and again and again…. Some of the girls were scared but everyone gave it a go, and the weather had improved to we had a great afternoon. The boys came and found us once they had finished orienteering, they also missed only one orienteering marker. At which point Kevin realised that he may have possibly placed the marker in the wrong place! Once back in the car park we met Conor and packed away all of the rock climbing equipment. Oisín then organised everyone to played a game of catch the flag, followed by Tip the Can and Hide and Go Seek. When we got back to the den, eventually in the case of the group who took the DART, we made dinner which was Pasta Bolognese. After dinner Kevin lit the fire and all of Ventures sat around throughly intent on their various whittling projects. Some made spoons, others knives, others arrows and some were even making wands to go with their Halloween costumes. Later on Fionn got very excited (after some smores) about the prospect of carving a pumpkin in the shape of a Creeper (something from Minecraft). So everyone split into groups and went inside to carve pumpkins and they all turned out really well, there should be photos up here soon.
Sunday morning we were busy as we had our Tidy Towns litter pick-up organised. So we had breakfast and walked down to Blackrock Park, Orla kindly put the equipment in her car and drove it down for us. We then spent about an hour collected rubbish in the park and continued all the way back to the den. Everyone did a great job, and we had plenty of rubbish by the time we got back to the den. Then each patrol was given a country on which they had to put together a project for the rest of the afternoon. The girls got Mexico and the Boys got China, the posters that they put together are displayed in the Den on the Venture notice board. They also had to cook a meal from their country. The girls made some delicious Tacos and Nachos and the boys made a really good stir fry with Noodles and spring rolls. All of the food was excellent and Oisín and Lainey did a really good job of cleaning up afterwards while the rest of us got back to our whittling. Then unfortunately about half of our number had to go home, because they had Halloween parties to go to. So the rest of us settled down in the Leaders room to watch Young Frankenstein. We then played a very interesting game of Switch where everyone showed everyone else their cards, and mine were looked at while I was out of the room, twice! We then, after much debate, watched X-Men:The Last Stand and went to bed.
Monday was boring as all we did was clean up, smash a pumpkin and go home. Overall it was a really good weekend and hopefully we will be able to run more joint activities in the future.
Posted in Ventures | Comments Off on Halloween Camp
February 14th, 2011
The Scout Sheild camp on the Paddys weekend sounds like it is going to be fun. Hope I can make it.
Posted in Group | Comments Off on Group Camp
October 8th, 2010
Look how well the Den looks on Street View on Google.
Posted in Group | Comments Off on Google Street View
May 24th, 2010
The 29th Dublin Scout Group will be celebrating out 70th Anniversary on Saturday the 29th of May and we would like everyone to join us! The celebration will be taking place at the scout den between 2pm and 4pm, all scouts and their friends and families are welcome.
On the day we will have a campsite set up to show everyone what we get up to when we go away on camp. There will be some food be cooked on the fire for anyone who is in the mood for a burger or a sausage. Some may even be lucky enough to get the chance to make a smore by roasting marshmallows over the fire. There will also be some games for people to try their hands at and lots lots more.
Inside we will also have a presentation of photographs and memories from the last 70 years. At about 2.30pm we will then gather together inside the hall where you will be able to hear about what the group have been doing for the last 70 years and how we got to where we are today.
In preparation for this day all scouts will be receiving a commemorative kneckerchief this week. The scouts can then wear these with their uniform on the day and for the next year.
Hopefully this will be a day to remember and their will be lots of people their to celebrate this occasion with us!
Posted in Group | 1 Comment »
April 5th, 2010
We arrived down at the den on Thursday 1st at 1.30pm. Tony, Emma, Conor and I (Kevin) started to plan the weekend. The plan, if you can call it a plan since we kinda just winged it, was to dig a pit, build a giant fire in it and cook way too much meat for us to eat. Tony picked a site for our fire pit, a spot beside the campfire circle, one meter wide by two meters long. Conor and myself started digging. We took two spades, a pitch fork and a pick-axe from the stores. I really liked the pick-axe it was way too much fun to use. The digging got tough in the middle we seemed to be digging in a rock pit, something we were not expecting. The weather was great for digging, a warm sun shone down on the dig site, there was hardly a cloud in the blue sky.
Well, you'd think with that kind of weather we'd be flying along, about half way to the three foot deep hole we needed, the rain started. Rain is a bit of an understatement, it was more like a tropical rain storm. We stopped, covered the hole in a tarp and got in Emma's car in order to make our way to Dunnes and Lidl to go shopping. We started shopping in Lidl and picked up most of what we wanted, then a quick stop in Dunnes and we were sorted. Tony got the two joints of meat we'd be cooking in the fire pit in Dunnes, one large joint of beef and one of ham.
By the time the we had finished shopping the sun had returned. Conor and I continued the dig, while Emma and Tony started a fire for Dinner in the campfire circle. Dinner was chicken curry, rice and swiss roll with custard. Cooking on the open fire was great craic, Conor admitted in his numerous years in scouting that he has never cooked on a fire!?! One lesson I learnt is that when you grease pots for the fire don't grease only three quarters of the pot, otherwise you clean the pot you'll end up with a nice burn line.

After a quick clean-up, we played cards, talked about our forthcoming trip to Wales, generally messed with Tony's camera and well just sat around the fire having fun. Then, finally, we went to bed.
Apparently I sleep like a log, and was only awoken by Tony shouting at me. I awoke to a wonderful smell, Emma cooking pancakes in the kitchen. Emma's pancakes with chocolate were just amazing. Kieran arrived to finish off the cabinets as we were leaving for our scavenger hunt.

Conor and mine first clue was "Go to into town, and go to a street named after a 1950's american woman.". What? Emma and Tony left Conor and I with ten euro and two maps and told good luck! Chaos ensued! Myself and Conor decided to get the 7 bus into town after a hint via text message from Tony. A 1950's women, so yeah we started naming 1950's american women and used the Dublin street map we had to see if the street existed. DAME STREET! Was the answer! We meet up with Tony and Emma on Dame street outside of central bank. To receive clue number two. That clue lead us to a sweet shop where we got clue number three. "Go to uncle Arthur's Gate … 1759 … and take a photo as proof.". After a rough start we really were getting the hang of it. James' gate! The Guinness gate on James' Street. Conor and I started out towards the Guinness store house on foot. We weren't too sure where we were going so it so happened that we did a loop around the Guinness distribution center and the store house taking a pictures of any of the gates that looked even remotely important. So we have multiple photos of Conor at lots of different gates with Guinness on them. We found the right one eventually.


We texted Tony that we found the gate, we got text back the question "What part of the gate changes every year". We phoned tony and I said the "the date", Tony heard "the gate"! Tony understood what we said eventually, only after repeating "the date" about fifty times on the phone.
Our next clue took us on the National Museum of Ireland, Jervis Street Shopping center, the Scout shop and finally into Cineworld Cinema on Parnell Street. We saw Kick Ass. It was amazing! Thumbs up all around.
We returned, cooked dinner over the fire, played some more cards and went to bed.
Tony and Emma awoke at 6am the next morning to light the fire pit, Conor and I got up at 7am and started to make pancakes. We built the fire in the pit for about 3 hours using the wood we've been collecting for months and charcoal. We wrapped the two joints of meat in tin foil, and then in chicken wire. Threw them into the foot deep of burning hot embers in the fire pit and covered the pit over with soil. Now we waited. While waiting we tested out the range of Hugh's new walkie talkies and Emma prepared some apple crumble and potatoes in the dutch ovens. We then waited some more, and nine hours later we unburied the pit to retrieve the meat.
The McLains, our parents, David and Petra arrived down to eat some food with us. It was a blast, clean plates all round! If you want to see some more photos from the weekend there is a photo album of the weekend.
Posted in Ventures | 2 Comments »