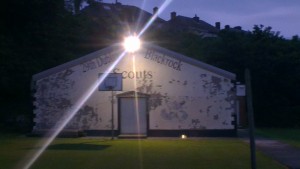 As most of you will have seen the pressure washing of the exterior of the den and most of the ground work has been completed to allow us to get started painting the den this week. We are painting the den and doing some work on the grounds as part of the preparation for the Great Leprechaun Chase and our visitors from Canada and the USA this summer.
These works are taking part from 7.30pm to 9.30pm from Tuesday to Friday. It is bring your own paintbrush or roller as we don't have enough for everyone. All help from parents will be greatly appreciated by the group as many hands make for light work.
The weather forecast is not great. If it is not raining but too wet to paint we do plan to go ahead with the gardening. If it is too wet to do anything we will post an update on this news item. Otherwise assume we are going ahead with the works.