So today was mostly just a day to hang out with our host families, although we did have to go to our swim test too. Me and the girls and our new host mom, Melissa started out by going to the Mall and we dragged Anthony (Melissa'a son) along with us to. After extensively checking out the mall and determining the price of converse we headed over to Target. After that was it was pretty much time to head over to the swimming pool and meet the others. We all went for a swim and everyone passed the swim test, which wasn't all that tough.
After swimming we went to Downtown Detroit and the Hickling's came along with us. Our first stop was a Coney Island for a hot dog, we were told that hot dogs are truly American and these Coney Island hot dogs are all Michigan. I have to say my hot dog was pretty amazing.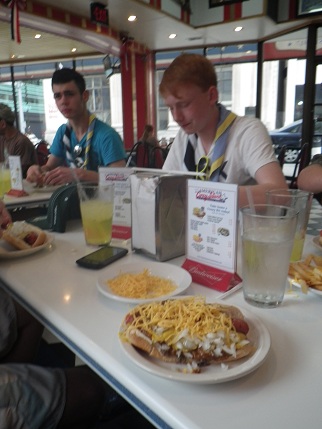 After our stomachs were full we were ready for a trip on the "people mover", this is a small train that travels in a circle around the city. Connor found out that the security on the people mover are very attentive when he stepped across the yellow line for just a few seconds. We took the people mover to the Ren Centre which is also the GM Building. Here we visited a shop which had Detroit souvenirs, where I bought myself some car cookies! Then we went outside to the river walk and had another look at Canada.
Next we piled back into cars and headed to the Heidelburg project, which is basically an area of the city where this particular artist collects pretty much anything he can get his hands on and then turns it into art. This was really impressive, then we found one house, where they are fundraising to get enough money to paint the house, for a charge of €5 we were able to sign their house. Conor G did the honours on our behalf.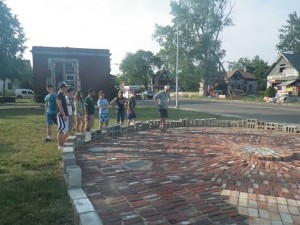 On the way home we drove around Belle Isle, which is a big park that is on what is almost an island. This park was designed by the same person that designed Central Park in New York.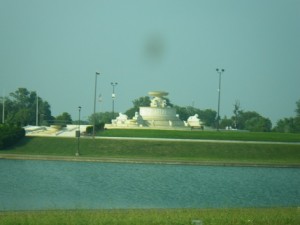 For Dinner I think most people went to Taco Bell seeing as Connor B has been talking about it so much. Me and the two girls certainly enjoyed it anyway! That's all for now folks, tomorrow we go to Lansing so I should have more to say then.
Kevin Baker: Some more Detroit photos: