Archive for the 'Fundraising' Category
January 2nd, 2018
It is that time of year again and we are doing out now yearly Christmas tree collection, please click the link for the PDF flyer.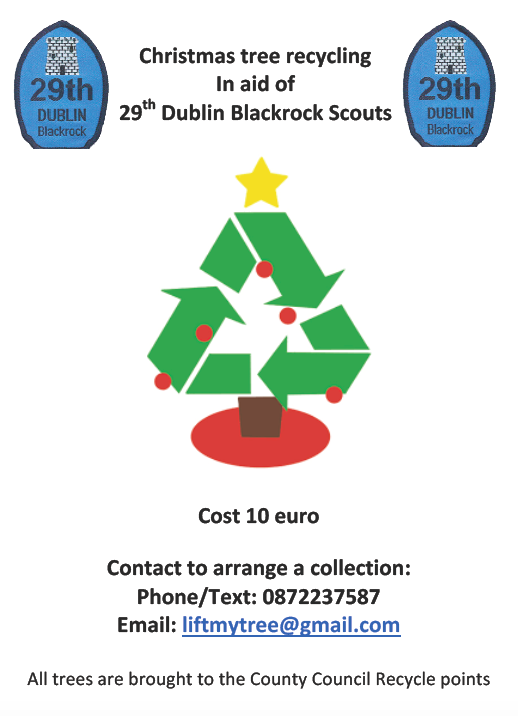 Posted in Beavers, Cubs, FMC, Fundraising, Group, Leaders, Scouts, Ventures, Website | Comments Off on Christmas Tree collection 2018
February 2nd, 2016
Hello everyone, the next fundraising event for MIC2016 will be clothes recycling. 
We will accept good quality clothes,
shoes

handbags

belts

teddies

sheets

mobile phones

tablets
We cannot accept
duvets

cushions

curtains

blankets 

end of life clothing etc
We will start collecting the recyclables on Monday 8 February 2016. You can put any of the above items in bin bags and drop down to the Scout Den. 
Collections will be done by a Scouter in the Scout Den Car Park, or you can arrange a collection if you have more than a couple of bags. Please DO NOT leave bags in the car park unless someone is there to accept them. All electronics should separated. 
If you wish a arrange a collection please email hughATSYMBOL29thdublinDOTorg and he will arrange a time that suits. 
The fundraising is being done in conjunction of a recycling company call Bag2School and they will pay per kilo of recycled items. The company will also donate a further 10% of what we raise to CanTeen Ireland. 
Please see flyer below that we will give out at Section meetings.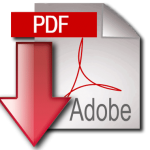 Posted in Beavers, Cubs, Fundraising, Group, Leaders, Scouts, Ventures | Comments Off on MIC 2016 Fundraising – Clothes Recycling
February 1st, 2013
Hello All
The bus company we are looking to use is holding a competition for a €500 voucher. Every time someone clicks this link Butlers Buses or the one below we are entered into the draw.
Tell all your friends and family to click it, copy the link to your social media sites. You need to ensure you copy the actual hyperlink and not just the text.
The more clicks there are the better our chance.
http://www.butlerstours.com


Posted in Cubs, Fundraising, GLC (Great Leprechaun chase), Group, Scouts, Ventures, Website | Comments Off on Great Leprechaun Chase
May 14th, 2010
Thank you for all the help that we received with the cake sale last weekend it was a great success.
We raised €390 which has been added to the groups fundraising effort. Well done to all the scouts who made cakes and came down to help.
Posted in Fundraising, Group, Scouts | Comments Off on Explorer Cake Sale
March 24th, 2010
We won! We won! We won!
Just in case anyone hasn't heard yet, we won €5000 in the AIB Better Ireland Programme, we had more than 1000 more votes than the other two groups.
Thank you to all those who voted, it was well worth the effort.
Posted in Fundraising, Group | 1 Comment »
March 1st, 2010
Hi all
Just like to say a big thank you to all those who helped out last Saturday at the pack-a-bag in Dunnes. We raised over €2,700 for the renovation fund.
A special thank you should go to those who, especially the Rovers, were able to stay there for longer then the three hours. Some even stayed for the whole day. We had great support from Parents as well and we could not of done it without their help, well done all.
Thanks again
Hugh
Posted in Fundraising, Group | Comments Off on Dunnes Pack-a-bag last Saturday
February 16th, 2010
Hi all
We, 29th Dublin Blackrock Scouts, have been short listed for the above program. We are in line for one of three prizes – €2,000, €3,000 or €5,000. We are short listed with two other groups and the group with the most votes gets the most money, that simple. See below for voting details. See www.betterireland for more details.
To Vote by Text:
Text BLACKROCK followed by space, followed by A to 51303 (Standard SMS rates Apply)
To Vote by Email:
Click on www.betterireland.ie Select VOTE ONLINE to the right, under FIND AIB BRANCH Couty – select Dublin and under Branch – select BLACKROCK branch and choose our group by clicking circle beside A – 29th Dublin Blackrock Scout Group enter email address and click submit.
You can vote as many times as you wish by text (don't forget to get bill payers permission), I am setting up my 300 webtext with delays everyday, and you can make a web vote once every 24 hours with an email address. If any one else is participating let me know and I will add you to my voting list. Voting open 15 Feb 2010 to 15 Mar 2010. Details will be on our website soon, www.29thdublin.org.
We have 5 mobile numbers in our house, between personal and work phones, and I will set up voting on them this evening. As far as I know we have 300 webtext a month on each number and I will set up a delayed sending of one going every couple of hours. If anyone else need help in setting this up we can help them. Likewise I have several email addresses I can use cast votes so if I do it at a set time each day it will register. Email me on hugh[AT]29thdublin.org if you need help.
Posted in Fundraising, Group | 3 Comments »